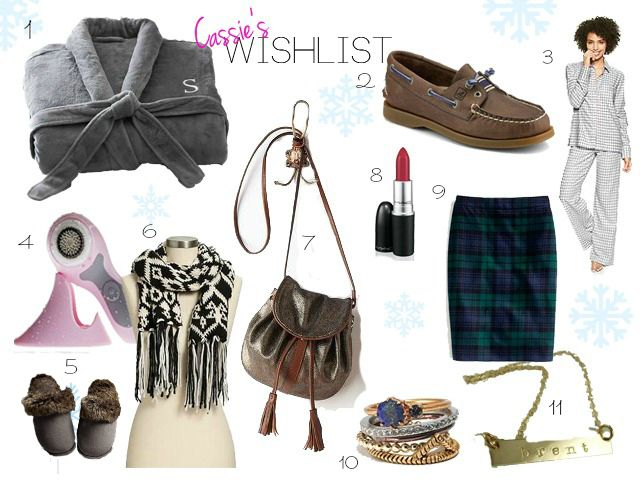 1
/
2
/
3
/
4
/
5
/
6
/
7
/
8
/
9
/
10
/
11
Thought I would post some holiday wishlists-just for fun! Some of this is really purely wishing, that beautiful Anthro purse is like half my rent or something! There is something about Christmas that makes you want robes and slippers-my mom and me tried on these PB robes and I felt like I was in a hotel, I almost laid on their display bed and ordered room service! And the faux fur stuff at Restoration Hardware, I want it all, these slippers are on sale for $16 dollars right now, which can usually buy you like one childs finger puppet at RH! I also am obsessed with stacking rings lately, these ones are from Madewell, anyone tried their jewelry? I have a feeling they are pretty but might turn my finger green? I bought myself that J Crew skirt for my birthday, it seems to say "I'm a Blair Waldorf schoolgirl (wink) but also a mom!" And I'm pretty sure I have posted the Kardashian inspired gold bar necklace on here like 3 times, so my husband better have caught my drift by now (note to Ben: I do not want it to say Brent). Sperry's are my favorite winter shoe because I still don't have to wear socks but they are semi-seasonally appropriate!
Some more of my (and Everett's) wishlist on my Pinterest
here
.
Ps-I have friends that swear by the Clarisonic, also another 'just wishing' because it is so pricey! Is it worth it?