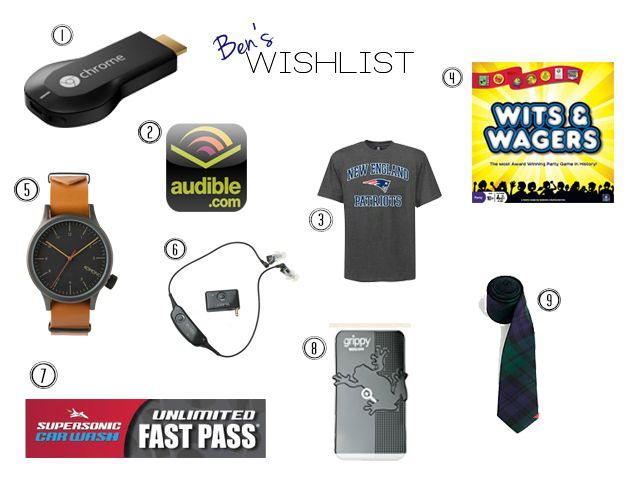 Disclaimer: This isn't really Ben's wishlist. I made it up. Ben is hard to buy for, well not really, it's just that he isn't that fun to buy for. I want to buy him things like cashmere man scarves and leather iphone cases (he doesn't nor will he ever have an iphone) and he wants techy things like computer chips or something. Despite our creative differences, I think this wishlist is actually a good mix!
Chromecast is this new awesome thing, a lot like apple TV except only $35, you've done it again Google! Ben has been really into audio books while he is working these days-cue audible subscription and wireless headphones. Ben and I argue daily about 'Can you wear anything other than a 'team shirt?!' but he actually doesn't have a Patriots shirt, he grew up in New England and has a crush on Tom Brady, heck so do I, so ok you can have ANOTHER team shirt. We played this Wits and Wagers game in Phoenix, it combines trivia and gambling, basically the perfect man game. My brother is actually the one who wants this watch, he showed me them and I love them, and if Ben were a watch wearing man, this is the one he would wear. The tie? We could match (see yesterday's post) how darling! Ben loves getting the car washed, we got it detailed once and I wasn't allowed to put my feet up on the dash for months after, so a gift card to a car wash would be pretty ideal and these grippy phone pads are apparently pretty amazing.
See my Christmas wishlist
here
.