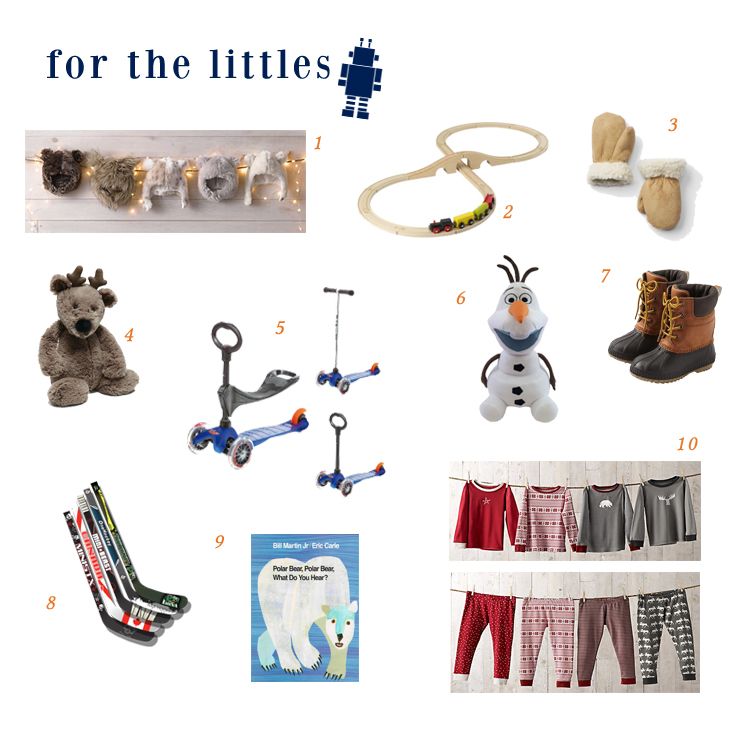 The past little bit Everett gets so excited about the little things and LOVES places like the toy store and the bookstore which makes me so excited for Christmas this year! These are just a few ideas, I could probably just get him a few balls and he would be over the moon but it is just a little bit of fun to pick things out while picturing his hyperventilation and jumping on Christmas morning.
1)
Restoration Baby&Child baby animal hoods
. There is nothing I love more than a baby in a toque (beanie) except a baby in a toque (beanie) shaped like an animal. These restoration hardware ones are what dddddrrreeeeaaammmmsssss are made of HEY HEY HEY!
2)
Ikea mini train set
. Everett loves the train sets at the toy stores, and this one is really simple and so cheap! Like under $10! I love wooden toys.
3)
Sherpa gloves.
Enough said.
4)
Jellycat stuffie
. Soooo I have an obsession with Jellycat stuffed animals and have started building a mini empire in Everett's crib. They are so unbelievably soft and the cutest little guys. I'm a collector. I mean Everett is :/
5)
3 in 1 Micro scoote

r
. So I have done a lot of research on toddler scooters and this is the ONE! It has 3 stages so it can last till they are at least 5. It turns with just a sway of the body, instead of them having to steer completely with their hands and all the reviews on them are amazing.
6)
Olaf Pillow Pal
. Everett and I saw this little guy at Costco, he rode around in the cart with us and him and Everett became best friends, and then when I went to put Olaf back and save him for Christmas or a birthday, there were tears and screams. I went back 4 days later and all the OLAFS WERE GONE! I had to hunt one down at a Costco 45 minutes away and I saved Christmas! And now 3 weeks later there are 100 more Olafs at our local Costco! Everett would have never know if he was missing Christmas morning most likely but I felt like a little Christmas Elf anyways.
7)
Gap Duck Boots
. For some reason, Ben was insistent Everett have winter boots this year, not exactly sure why but I guess he has dreams of snow angles and tobogganing with Everett, plus Christmas in Canada so he has good reason. Personally, I kind of hate kids winter boots all clunky and ugly, so when I found these at the Gap, I waited with baited breath for a 50 percent off sale and hoped they didn't sell out and alas, Black Friday they were mine! I mean Everett's...
8)
Mini Sticks
. I grew up watching my brother and his friends play with these constantly, hey I even played goalie myself a few times. Everett might be a little young for these but I think he would be excited about them anyways!
9)
Polar Bear, Polar Bear, What do you Hear?
This book's cousin, Brown Bear, Brown Bear is a favorite around here so I thought this is more winter-ish and a chance to learn some new animal sounds.
10)
RH Christmas Pj's
. Christmas just isn't Christmas without Christmas pajamas. I got Everett a little penguin with Santa hat footsie pair (gotta keep him little with the footsie pj's) from Carter's but they are sold out, but these are what I would buy all the children of the world if I was a multi-millionaire! I literally want to birth all my future children in this store.
Check out my
gift guide for the 'her'
in your life, but also just basically my personal wishlist.